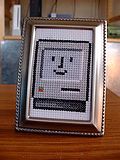 Yeah, I said it. Just read the title again....

It's not that I'm really a Mac fanboy, but CES was as lame as it usually always is (though Veronica Belmont did do a cool interview with a robot with weak AI). Ok, CES wasn't even lame...I'd flip out if I won a trip out there or something...but while my east coast but stays here in the east coast, gadget-heavy events without any major announcements will always be a little tough to get excited about from afar. There were some shake-ups in the high-def format war (Blu-ray seems to have stolen over a lot more partners and I have heard some shout that the format war might be over), but even that really didn't do much for me.

MacWorld on the other hand, which I'm not really that interested in once Steve Jobs' Keynote is over, proved to be as cool as it usually is every year. Of course the iPhone didn't come out this year (I fear that the space-time continuum may not ever let it be released again for the first time), but Apple didn't disappoint attendees already weary from an unspectacular CES. Here are a couple of the things that "Mad Dog" Steve Jobs brought out of his magic hat:

iPhone firmware update:

included moving around of home-screen buttons (finally), creation of home-screen buttons (fairly useful), pseudo-GPS in Google Maps (very awesome when it works; was released a few weeks ago with most other mobile devices that can use GMaps), and texting to multiple individuals (they didn't have it already?!?!?).


Time Capsule:

pretty much a home server that acts as a wireless router as well, nifty for people who want only Mac products in their home, comes in 0.5 and 1 terabyte drive capacities.
Macbook Air

:

a subnotebook that is small enough to fit into a manila envelope and has fairly decent specs; some people think the notebook is too restrictive and too hard to replace the parts of, but I would say that this could be a very important move for Apple, even if their first try isn't dead-on.

iTunes Store Movie Rentals:

like pretty much everything else listed above, this was leaked out pretty far in advance (surprising actually how much got out this year), but the big surprise was that they have every major movie label on board and that means this won't suffer from some of the growing pains that its other services have had in the past; movies can be kept for 30 days and must be watched 24 hours after the beginning of viewing...a tad bit restrictive, but the prices seem reasonable.

"One more thing...":

there wasn't one :(
So, what's my take on MacWorld? Well I agree with pretty much everyone else who has been echoing the "not a revolutionary year but an evolutionary year" mantra (I think the CNet people coined the phrase initially). Both CES and MacWorld were developements of new directions and enhancements of preexisting products. Is this bad? No. Is this less fun? Yep.



Resources:


Image from Flickr user benjibot
under an
Attribution-Noncommercial-Share Alike 2.0 Generic CC License.
Blogged with Flock