This week I've got a

exclusive special surprise

for everyone, courtesy of Digsby! What is Digsby? Well in the world of instant messaging, protocols like AIM, MSN, Yahoo, and ICQ are the kings. The thing that many people do not realize is that they are only protocols and can operate separately from the clients that their owners make for them. For a long time, the only two serious options were Pidgin (formerly Gaim) and Trillian. These clients allow for multiple accounts on multiple protocols to merge all your friends, no matter who they use. The problem with Pidgin and Trillian is that Pidgin (though I love it to death) is going through a very slow development process by the open-source community and Trillian has an interface tha
t a lot of people can't get used to (it's fairly different from the AIM client that most people were raised on) and you have to pay for the Pro version. Later on, Google Talk (gTalk for short) came along, but it really didn't get much wide acceptance.
Now there is a new competitor in the field, Digsby. Their multi-protocol client (AIM, MSN, ICQ, Yahoo, and the Jabber protocol) is very similar to the AIM format, has most of the really awesome functions that Pidgin users have come to depend on, but also brings a few other things to the table. Things like message logging (and tools for using the logs), quick status changing, and tabbed chat windows are there like many modern clients. It has built in integration for SMS messaging, pop-up alerts for messages and updates (so you don't have to change windows), email support for most popular webmail providers, social networking integration (Facebook and Myspace for now) which alerts you to whatever is going on in your profile, and a really easy way to reskin the look and feel of the client. On that last one, I feel this is important, because honestly I've never been able to figure out how to easily change the skin of Pidgin on a Windows machine. If it didn't include these new features, it would be rather hum-drum, but I think the new additions may challenge the other messaging clients to rethink their core functions and grow. The whole list of features is on their website.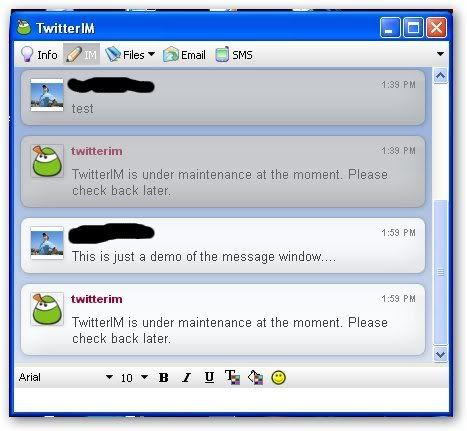 A demo of a chatbox with Digsby...my username crossed out of course.


I haven't been using Digsby for a huge amount of time yet, but so far I haven't noticed any of the bugginess that I'm used to from open-source projects like Pidgin. After only a few hours I decided to completely switch over to Digsby for my regular AIM usage. I have a few small complaints about the user interface (as I always do), but since this is a beta, I figure a lot of those little kinks will get worked out once they have enough user feedback.

So, now for the big surprise!

Digsby has been kind enough to give Mason Tech Beat its own BETA INVITE CODE.

Just enter

"mason"

into the registration box (after you download and begin installing the program from Digsby.com) and you will have full access to this awesome beta. The code is only good for the first 500 users to take advantage of it, so first come, first serve. I think this is a great new product and am happy to shamefully plug their viral release of it!

One last thing....Broadside Online has kind of gone through the fire and been reborn as Connect Mason, which is separate from Broadside in Student Media now. They have agreed to put up my stories from time to time, just like Broadside Online did before, and I am very grateful to have their support. Everybody should head over to their new site. They are really doing a great job with the campus news and I personally subscribe to their front page feed.

Resources:
Thanks to dotSyntax (people who run Digsby) for the use of their logo!

Blogged with Flock